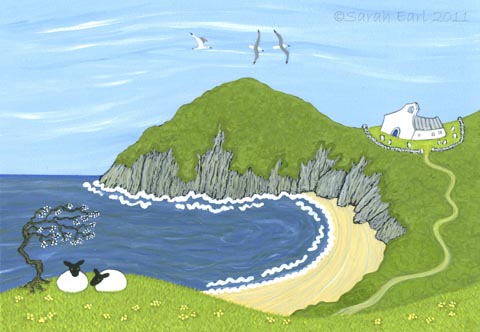 Sarah Earl
Inspired by Pembrokeshire
I love to create "joyful and magical" paintings in bright-coloured gouache paint, inspired by a Pembrokeshire landscape full of wild flowers, birds and animals. And I paint entirely from my imagination, creating very personal interpretations of Pembrokeshire - some places are real, others are imagined.
Walking in this marvellously varied county has always been my passion. I have walked many miles in all weathers, in every season. And I walk at all times of day – in the cold frost of a winter morning, in the sizzling heat of a mid-summer afternoon, on golden sunset evenings and at night in the star-bright moonlight.
As I walk I see all of the things that inspire my paintings: low white-washed cottages and grey-stone farmhouses, small lichen-walled fields of early potatoes, black-faced sheep dotted across purple hillsides, storm-bent hawthorn bushes - and always the ever-changing sea and sky.
For me this wonderfully unique landscape is full of small but essential detail: the wild flowers and the birds and animals are an integral part of my Pembrokeshire landscape. So, all of this I paint into my pictures to convey what I feel are the definitive elements of my Pembrokeshire landscape.
enquiries@sarahearl.co.uk www.sarahearl.co.uk